I hate laundry lists of go look for me on the web. I want content. I want to share with y'all. Right now I'm barely treading water, and I have no idea what to do LOL.
On the 17th, BA and I leave for the Cleveland Clinic in Ohio. They have the foremost experts in her foremost disease there, so we hope they can help make BA feel better and get her on the right meds to push toward remission. We have a Go Fund Me set up to help with her medical bills and travel expenses, which are crushing, if anyone can spare a share or a dime. Click here for that link. 
BA has all sorts of things going on! Refraction is out, co-written with Jodi Payne, who's the best Jersey girl we've ever met. They have an east meets west sensibility I love.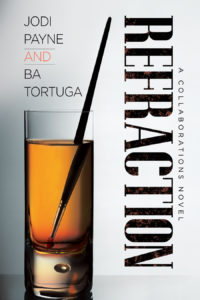 On the Dreamspinner coming soon, BA has Things that Go Bump, Rainbow Rodeo and Two of a Kind!
I have Wolf's Man Friday out in audio!
We also have lots of neat things going on at Radish serial fiction. Check out the Barn, a BDSM cowboy story, now!
We also both have menage stories running now on the "freemium" model…
There's so much more, and I'll try to update from the road. We love y'all so much and miss chatting about food and dogs…
XXOO
Julia