Hey y'all!
If you're following along, BA had surgery, we went to RT, we lost half our income in one month, and we're scrambling to pay the mortgage, let alone the other bills.
Yeah, how are you? LOL.
In better news, we have new releases!
Night of the Living Manny is out now!
Something besides love is growing….
Manny Brenden Torrance is good at his job. He's dealt with all sorts of children and parents, but he's never met anyone as intriguing as Liam Whitehouse. Liam is a scientist with three kids, whose job is keeping him away from home more and more. That's where Brenden steps in to help.
Liam has secrets, though. He's working on a project for a pharmaceutical lab that could change disease management. Or destroy it. While he and Brenden start a romance they both want to continue, things at Liam's job come to a head, and suddenly the whole family of Dad, manny, three kids, and a big drooly dog is on the run from the one thing that might keep Brenden and Liam apart. And infect the world.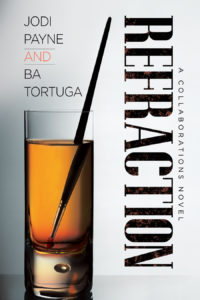 Refraction by BA and Jodi Payne
A Collaborations Novel
Texas artist Tucker Williams arrives in New York City for a gallery showing of his work and finds the city blanketed in snow. He meets free-spirited underwear model Calvin McIntire on the steps of the Midtown library and is captivated by a wild beauty that manages to compete with the demons that occupy his soul and fuel his work with their lust for blood and erotic imagery.
Unable to deny a new inspiration, Tucker sublets a studio and finds the city's energy almost as addictive as Calvin.
Tucker is obsessive, barely holding on to sanity as his art consumes him, and Calvin is dealing with demons of his own, trying desperately to protect his soul in a business where only his appearance has value. They each prove to be the perfect remedy for the other's personal brand of crazy until, in the midst of stress and exhaustion, they discover that a promise Calvin needs is the one thing Tucker can't give him, and their heaven turns to purgatory.
Can both men find a path toward wholeness in Tucker's beautiful but chaotic Texas home? In order for them—and their passionate relationship—to thrive, they'll need to adapt, share their psychoses, and find a true balance between New York City and rural Texas.
On preorder at Dreamspinner here
Finally, BA and I have an exclusive new serial called the Barn running at Radish fiction.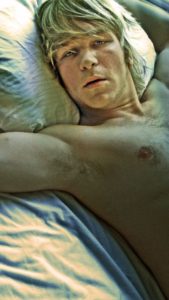 BDSM. Cowboys. A hot snowboarder. A club to fall in love with…
Cowboy and horse trainer Ashton Gregory is always up for a new adventure, so he travels to Aspen to look into membership at the Barn, an exclusive private BDSM club. What he doesn't expect to find in a professional snowboarder hot enough to melt the winter snow pack. Max "Gear" Driver is an expert at the half pipe, but he's not as good at the dating scene. Ashton is just what the sports medicine doctor ordered there, but it turns out he wants to introduce Max to the world of BDSM. Can the two of them find enough common ground to make a week or two of vacation pleasure into a whole new life together?